From getting up close and personal with wildlife in the Galapagos to wandering the streets of Havana and exploring temples in Myanmar, there's plenty occupying my wanderlust list and I'll never be short of ideas for holiday destinations. I work freelance at the moment and to while away the dry, workless hours I spend my time researching and planning elaborate holidays that are financially and time-wise way out of my league! If someone wanted to hire me to do this then that would be just great! So when I saw the Grand Adventure competition on
Rosie's blog
it seemed the perfect way to put all those hours of meticulous research and number crunching to good use! Money Supermarket have set bloggers the challenge to plan their own grand adventure with just a £1000 budget. Challenge accepted!
Havana, Cuba - just one of the destinations on my wanderlust list!
Now minus the cost of flights, £1000 could get you just about anywhere in the world! But I stuck to my favourite continent (admittedly I've only visited two) and the treaure trove that is Europe! I also knew exactly what I'd do with £1000, and that was visit my dream destination of the Balkan nations. I've been planning for the best part of a year and have no less than six detailed plans for various routes and countries covered. From an fleeting tour of Croatia, Bosnia-Herzegovina, Montenegro, Kosovo, Albania, Macedonia, Greece, Turkey, Bulgaria, Romania, Serbia and Slovenia right through to the a somewhat shorter but more in-depth mini-tour of Croatia, Bosnia-Herzegovina, Serbia and Montenegro which makes up my competition entry, I have bus times worked out to the minute and have budgeted to the penny. Pretty impressive, non?
So, on to the journey! I'm not going to bore you with the exact figures and costs, but I really did put my heart and soul into these plans and spent hours crafting this post, so I hope you can appreciate how passionate I am.
Belgrade, Serbia
There are plenty of cheap direct flights to be found from London to Belgrade, and though flights are excluded from the £1000 budget, you could easily include them if you were frugal enough. Belgrade is hailed as an upcoming European destination and though it might not be the prettiest city, its diversity and nightlife more than make up for it. I'm a big fan of European history, so at the
Museum of Yugoslav History
would be my first stop, followed by a boat trip along the Danube! In stark contrast to the city, some of the most beautiful countryside in Europe can be found in the south of the country. I'd enjoy the mountain views along the Belgrade – Bar (Montenegro) line, before hopping off in Podgorica to continue my journey to Kotor.
Kotor, Montenegro
Surrounded by stunning mountain scenery, the walled city of Kotor is situated at the head of southern Europe's deepest fjord. It might be a little bit off the radar for most travellers and seems to lack any real 'tourist attractions', but it's precisely this that makes it the perfect destination for me. Just look at the contrast between the mountains and the water - it's breath-taking. This would be the perfect place to take a dip in the Adriatic, hike to the top of a mountain and really live like a local.

After a few blissful days of exploration, I'd jump on a bus and head back towards the hustle and bustle of the city. Next stop: Sarajevo!
Sarajevo, Bosnia-Herzegovina
Sarajevo has a heart-breaking history of war and violence, but by all accounts it's doing very well in shedding its more unpleasant stereotypes. For me, one of the city's biggest appeals (apart from its obvious beauty) is that there is history in every corner. Why pay to visit a museum when you can visit the
Latin Bridge
(pictured above) for free? It's where Archduke Franz Ferdinand was shot, sparking off the First World War. A pretty important place I'd say!
For good reason the Balkan nations aren't renowned for having a decent train service. In fact, it would be a rarity to actually find a train, let alone one with good connections in some of the southern states. One exception though is the train between Sarajevo and Mostar. Passing through some of the most dramatic and scenic mountain ranges in Europe it promises glorious views, but what I love most is how old-timey the train is. It seems like it would make the visit just a little more authentic.
After stopping off to dip our toes in the stream and enjoy the medieval architecture it'd be back on the bus and on to our final (and for me most exciting) stop: Dubrovnik!
Dubrovnik, Croatia
There are so many beautiful places in Croatia that you couldn't even consider doing them all with a £1000 budget. One of the most popular, and without a doubt a highlight in the eyes of many visitors, is the medieval city of Dubrovnik. Glittering blue sea, golden sands and exquisite architecture, Dubrovnik is the best of a vibrant city and buzzing seaside resort all rolled into one. Strolling around the cobbled streets and walls that enclose the city seems like the perfect way to spend a few days and would be a welcome wind down after a jam-packed schedule.
Apart from Dubrovnik, nothing on this list is particularly touristy, so not only does that keep the costs down, but I also think it's a lot more fun to explore somewhere where you can wander round and get a more accurate feel for what life is like as a local. Plus, all that amazing scenery and fascinating history is completely free to look at.

I think the key to frugal travel is to plan, plan, plan! Though adventure and the unknown is fun to an extent, I'm not a spontaneous person at all and I like working to a schedule. When you're travelling it's inevitable that you won't be able to stick to your initial plan, but with a couple of back-up plans it won't run too far from smoothly! Here are some more of my top tips:
You don't have to drive to save money! Trains in Central Europe are often extortinately priced, but they're pretty much non-existent in the Balkans. Crossing borders often costs no more than 10€ when you travel by bus, and from what I've heard they seem pretty speedy too! Plus, you get to enjoy all of that wonderful scenery while someone else does all the hard work.
Hostels! Not only are they ridiculously cheap and a lot cleaner than the image in most people's heads, they're a great way to meet new people to share your adventure with!
Packed lunches and street vendors! You don't have to eat in fancy restaurants to eat well. Quite often you'll find smaller cafes and street vendors selling huge amounts of delicious, authentic food for a fraction of the cost. For example, in Tallinn we ate pancakes for lunch at a tiny place called Kompressor. It cost 2,50€, the portions were huge and it kept me full until dinnertime and beyond! Or you could take advantage of the local supermarket to keep costs down. I can't be the only freak who thinks exploring supermarkets is one of the highlights of a trip abroad, surely?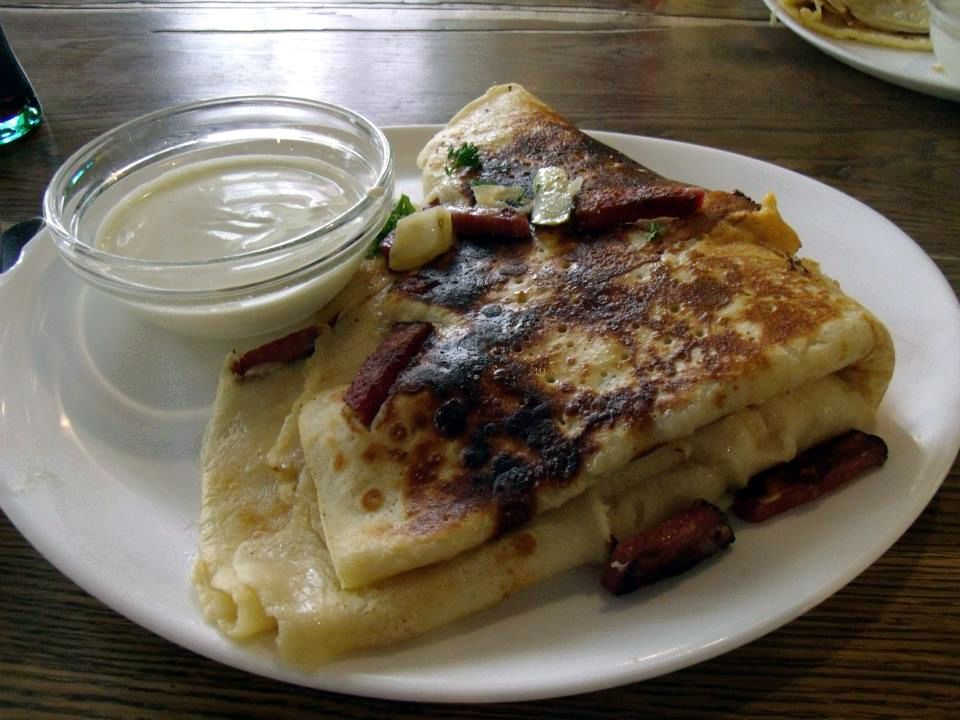 Said delicious pancakes in Tallinn
If you managed to get through all that I really do take my hat off to you. I hope it left you feeling as transported and inspired as I felt writing it. It might not be scuba diving in the Coral Reef or scaling Mt. Everest, but I can't imagine anything grander!
You can enter the competiton for yourself here
, so do link me if you did it too! :)
All photos are linked back to their Flickr/original source, and if by some chance you stumble upon your image here and would like me to take it off, please do say. It is a competition post after all!